"Bloco Ketu": A percussion workshop with Leon Patel in association with Global Grooves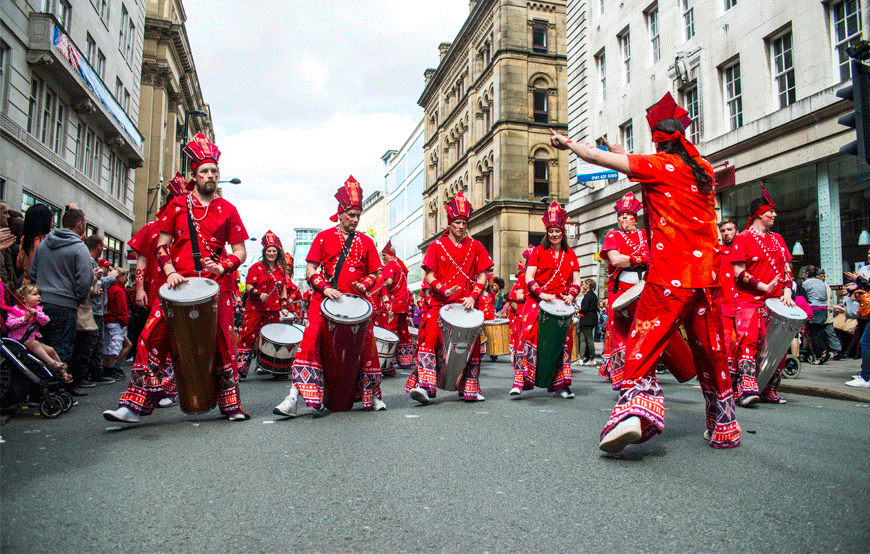 Sat 4th June, 11am-6pm
Bramblebrook Community Centre,
Stockbrook Street, Derby, DE22 3WP
**FINAL BOOKINGS DEADLINE NOW: SAT 28th MAY**
Tickets:
£25 early bird rate if booked by Mon 9th May *Early birds now over*
£35 if booked after 9th May
5 for 4 offer on tickets (please email for details)
To book a place, you will need to complete a booking form. To download a copy of the booking form, please click here and email a completed copy to either:
or:
Payment can be made by bank transfer or via PayPal. Bank transfers have no additional charge, but PayPal will be subject to an additional £1.50 booking fee per ticket. Details on how to pay will be sent once we have received your booking form.
---
Bloco Ketu
This one day workshop will explore how the rhythms of Candomblé (Nação Ketu) have influenced the Bloco's of Salvador Bahia.
By exploring traditional phrasing and rhythms used in the Candomblé Ketu tradition we will develop a new and unique original arrangement. The composition will include unison breaks and solo phrasing for individual instrumental sections. We will also explore the use of rhythmic phrasing within the arrangement encouraging conversation between different sections following the cycle of traditional songs.
Process: 
In this workshop the group will explore several key rhythms, songs, phrases and rudiments used in the Candomblé Ketu traditions. We will then explore how these elements have been used and transcribed for the Blocos of Salvador Bahia and have influenced styles such as Samba Reggae.
Working to the experience level of the group, we will then put together an arrangement based on the foundations explored at the beginning of the day. This will be a new piece of music that we will devise 'on the spot' taking influence from these foundations.
Time permitting, we will also explore simple movement and choreography for the percussion group. At the end of the day we will celebrate our achievements by playing the new arrangement for the first time and then open the workshop for questions and discussion.
Instrumentation:
The following instruments will be covered on the day
Bells, Caixa, Repinique, Timbau, Surdo
Experience levels:
This workshop is suitable for all levels of ability from beginner to advanced percussionists with solo phrasing offered for more competent players.
This is a great opportunity to explore a little deeper the elements that make up Brazilian percussion arrangements. As well as learning new rhythms, breaks and techniques, we will take a closer look at how these percussion arrangements have developed over time and their relationship with rhythmic ancestors.
"Don't just play, understand what you are playing and why"
About the tutor – Leon Patel:
Based in Manchester UK, Leon is a freelance musician, project manager and director of three leading cultural arts organisations and a Clore Artist Fellow 2013/14. As a musician, he is fascinated by all things percussive. For the last 20 years he has focused on Afro-centric music and arts traditions eventually finding his main passion and focus in Afro-Brazilian music and carnival styles.
Leon regularly holds master classes and short courses to share his decades of study and performance techniques with students all over the world. He has studied with various international percussion esembles in Brazil, West Africa and India and toured with Batucada Sound Machine in 2011. Leon's directorship of Global Grooves, Meninos Oldham, Bangdrum CIC, and numerous UK ensembles has facilitated much of the development of international percussion-driven music in the UK.