Carnival drumming course for beginners with Calidoscopio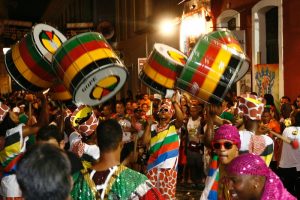 Sundays, 12pm-1pm
The Maypole, Brook St, Derby, DE1 3PH
Dates: Sun 16th Oct, Sun 23rd Oct, Sun 30th Oct,
Sun 6th Nov, Sun 20th Nov, Sun 27th Nov
Cost: £4 full, £3 concessions paying weekly
*Pay for full course and get 1 session free: £24 full, £18 concessions*
Note: Concessions are self nominated. We don't ask for proof but please be fair as to whether you can afford the full fee.
---
A 7 week course in carnival drumming led by Chris White from Calidoscopio. No previous experience neccesary, this course is open to everyone regardless of whether or not you've played an instrument or drummed before. Drums will be provided. You are welcome to just attend the sessions you can make if you can't attend the full course.
You will be introduced to the instruments used in Brazilian carnival blocos and baterias. We will look at the techniques used for playing surdos (bass drums), agogo (two tone bell), caixa (brazilian snare drum), timbau (played with hands), repinique (often plays calls to lead the band) and tamborim (small hand held percussion played with a stick). We will learn some grooves and arrangements as played by Calidoscopio Carnival Drummers in styles such as Samba Reggae, Afoxe, Maculele and some of the bands own home brew written by our director Emma Reading.
We hope the course will tempt you into joining us after it's finished, but there is no obligation to do so!
Feel free to just turn up, but if you'd like to ask any further details or let us know you're interested, please email: info@kcm-music-derby.org.uk
Special thanks to The Maypole and Furthest From the Sea for supporting this course and providing the venue