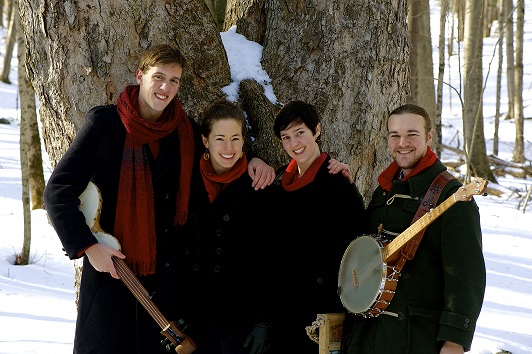 Kaleidoscope Choir hosted Northern Harmony from the States on Thursday 21 September 2017.  The small acapella group Windborne Singers is an offshoot from Northern Harmony, and they will be coming to The Multifaith Centre,  University of Derby, Kedleston Road
Derby,  DE22 1GB on Thursday April 19th at  for a Workshop from 6.30pm to 8.30pm and a Concert from 8.45pm to 9.45pm   http://multifaithcentre.org/contact-us/ will show you the location
Tickets          Workshop only £10        Concert only £8      Workshop and Concert £15
To book tickets, contact Joan at choir@kcm-musicderby.org.uk or on  01332 831564
If you want to know how they sound, check out their website, www.windbornesingers.com
Lynn Mahoney Rowan, Will Thomas Rowan, Lauren Breunig and Jeremy Carter-Gordon share a vibrant energy on stage – their connection to each other and to the music clearly evident.  They educate as they entertain, telling stories about the music and explaining the characteristics and stylistic elements of the traditions in which they sing.
Their latest project, Song on the Times, is an illustrated songbook and album that brings together music from working class movements for peoples' rights and sings them for
today's struggles.
The Choir will also be performing again at the Stratford Community Choirs Festival on Sunday March 25th 2018.  We had a great time there last year.